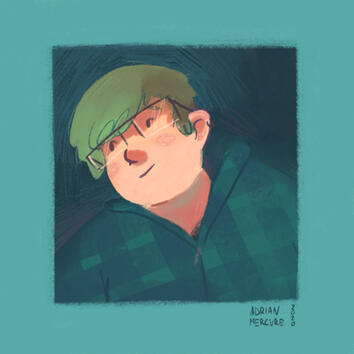 Adrian Mercure
Adrian Mercure is an illustrator based in Lille, France. Their work mostly focuses on cute, colorful themes.
Right now, this website mostly serves as a landing plance for their portrait commissions.
Portrait commissions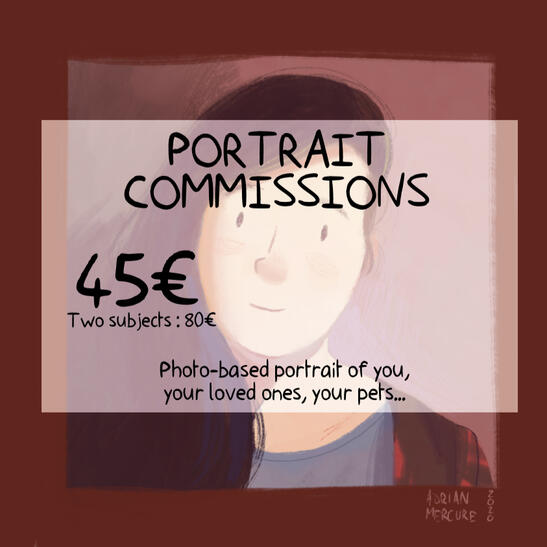 I will draw a custom human or animal portrait for you! It could be you, your loved ones, your pets... A single portrait costs 45€, a double costs 80€.
A person portrait will always be in headshot format (full head plus part of the bust). An animal portrait can be either fullbody or partial.

The portrait will be drawn digitally and you will receive a high resolution file.

Please note that this offer and these prices are only for individual customers and for private, non-commercial use only : you can print it and hang it at home, post it with credit on your social media profils, etc. For any other use (communication campaign, print sales, or any other commercial use), please contact me directly at [email protected]
---
How it works
Fill the form down below to provide me with your billing information and your reference picture. It doesn't have to be excellent quality, but it should be clear and readable enough.
You may upload several picture if you want me to have multiple angles to refer to, or if you'd like to let me pick which one to draw from.

Once I receive your form, I will contact you via email with a bill. Once it is paid, I will start working on your portrait. You may, if you want, pay more than what's written on the bill if you'd like to tip, but that is of course totally up to you.
Finished work
Here are all my finished portraits. I will update this section as I make more.
For non-portrait work, feel free to browse my instagram! (link below)